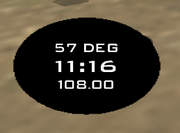 The watch is the circular UI element in the bottm left corner of the screen that replaces the single player Mini-map. It displays useful information such as the time of day, facing angle and current radio frequency.
The Facing Angle (or Bearing) can be used in conjunction with trilateration or triangulation to calculate distances.
A future item/feature will make bearings much more useful for finding locations of items or players using radio frequencies.
The watch covers up the original game's mini-map however part of the north pointer still shows (intentionally) so you can still use the compass feature to easily navigate the environment.
Ad blocker interference detected!
Wikia is a free-to-use site that makes money from advertising. We have a modified experience for viewers using ad blockers

Wikia is not accessible if you've made further modifications. Remove the custom ad blocker rule(s) and the page will load as expected.